PRINCIPAL
PRINCIPAL LIST SINCE 1948
| | | | |
| --- | --- | --- | --- |
| S.NO. | PRINCIPAL NAME | FROM  | TO |
| 1 | SHRI DURGAPRASAD AWASTHI | 1948 | 1952 |
| 2 | SHRI NATHHULAL SARAF | 1952 | 1952 |
| 3 | SHRI HARNARAYAN TIWARI | 1952 | 1953 |
| 4 | SHRI DURGAPRASAD AWASTHI | 1953 | 1966 |
| 5 | SHRI HARNARAYAN TIWARI | 1966 | 1968 |
| 6 | SHRI DURGAPRASAD AWASTHI | 1968 | 1973 |
| 7 | SHRI SHIVSHANKAR MISHR | 1973 | 1974 |
| 8 | SHRI OMKARNATH GOUR | 1974 | 1976 |
| 9 | KU E.V NAYDU | 1976 | 1976 |
| 10 | SHRI SHIVSHANKAR MISHR | 1976 | 1981 |
| 11 | SHRI BHAGWATPRASAD AWASTHI | 1981 | 1986 |
| 12 | SHRI ISHWARCHAND MISHR | 1986 | 1989 |
| 13 | RAMESH KUMAR BHATT | 1989 | 1994 |
| 14 | SHRI ISHWARCHAND MISHR | 1994 | 1997 |
| 15 | SMT ASHA CHATTERJEE | 1997 | 2000 |
| 16 | SHRI PADMAKAR JAIN | 2000 | 2004 |
| 17 | SHRI M.D. MISHRA | 2004 | 2004 |
| 18 | SMT ASHA CHATTERJEE | 2004 | 2005 |
| 19 | SHRI S.K. JAIN | 2005 | 2006 |
| 20 | SMT V.L. AWASTHI | 2006 | 2014 |
| 21 | SHRI RAVINDRA KUMAR DUBEY | 2014 | 2016 |
| 22 | SMT USHA PARASHAR | 2016 | 2020 |
| 23 | MRS.JYOTSNA DIXIT | 2017 | TIL DATE… |
PRINCIPAL MESSAGE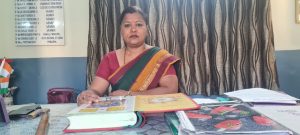 Hitkarini School, Govindganj can be marked as the center of progressive and quality education, as we aim at the all-round development of the children not just in academic but also in creativity and sports. The school is striving ahead with the efforts of the team of Teachers and Principal working together, thus resulting in outstanding achievement among our students in both curricular and co-curricular activities. As the principal of the school I feel honoured and privileged to be part of an educational institution where every collaborator is a learner & every day is an opportunity to learn and discover.
Our students have brought laurels in every field, be it academics, sports, music, dance, drawing and painting etc.
Wholesome participation is encouraged in the extensive range of extracurricular activities are offered and care is also taken to ensure the well being of every student in the school. Our school community continues to move forward together with confidence, pride and enthusiasm.
The school has an inclusive, progressive approach and style of functioning, where we inculcate moral values and ethics in every child. All the teachers are qualified, affectionate, enthusiastic and committed towards the welfare of children.
I would like to take this opportunity to extend my gratitude to all parents of our students for having bestowed their trust and confidence in Hitkarini School, Govindganj. You are our driving force.
I would like to wish every student and staff member success in all their future endeavors.
With Regards
  MRS . JYOTSANA DIXIT
             PRINCIPAL
              MA , B.Ed